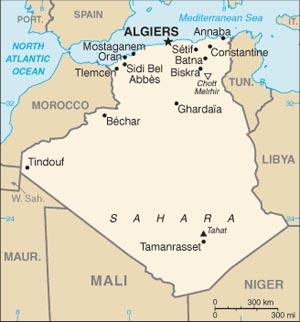 Geography

Location: Northern Africa, bordering the Mediterranean Sea, between Morocco and Tunisia.
Area: Total--2,381,740 sq. km. Land--2,381,740 sq. km.; water--0 sq. km. More than three times the size of Texas.
Cities: Capital--Algiers; Oran, Constantine, Annaba.
Terrain: Mostly high plateau and desert; some mountains; narrow,
discontinuous coastal plain. Mountainous areas subject to severe
earthquakes, mud slides.
Climate: Arid to semiarid; mild, wet winters with hot, dry summers along
coast; drier with cold winters and hot summers on high plateau; a hot,
dust/sand-laden wind called sirocco is especially common in summer.
Land use: Arable land--3%; permanent crops--0%, permanent pastures--13%; forests and woodland--2%.


People

Nationality: Noun--Algerian(s); adjective--Algerian.
Population (January 2011 official government est.): 36.3.
Annual growth rate (2010 est.): 1.177%. Birth rate (2010 est.)--16.71 births/1,000 population; death rate (2010 est.)--4.66 deaths/1,000 population.
Ethnic groups: Arab-Berber 99%, European less than 1%.
Religions: Sunni Muslim (state religion) 99%, Christian and Jewish 1%.
Languages: Arabic (official), Berber (national language), French.
Education: Literacy (age 15 and over can read and write)--total population 69.9% (2004 est.); female 60.1% (2004 est.); male 79.6%.
Health (2010 est.): Infant mortality rate--26.75 deaths/1,000 live births. Life expectancy at birth--total population 75.26 years; male 72.57 years; female 76.04 years.
Work force (2008): 9.464 million.
Unemployment rate (2010 est.): 30%; Algerian Government estimate 10% in February 2011.

Government


Type: Republic.
Independence: July 5, 1962 (from France).
Constitution: September 8, 1963; revised November 19, 1976, November 3,
1988, February 23, 1989, November 28, 1996, April 10, 2002, and November
12, 2008.
Legal system: Based on French and Islamic law; judicial review of legislative acts in ad hoc
Constitutional Council composed of various public officials, including
several Supreme Court justices; Algeria has not accepted compulsory
International Court of Justice (ICJ) jurisdiction.
Administrative divisions: 48 provinces (wilayat; singular, wilaya).
Suffrage: 18 years of age; universal.
National holiday: Independence Day, July 5, 1962; Revolution Day, November 1, 1954.
Major parties represented in parliament: National Liberation Front
(FLN), National Democratic Rally (RND), Movement of Society for Peace
(MSP), Workers' Party (PT), Algerian National Front (FNA), Movement for
National Reform (MRN), Islamic Renaissance Movement (MNI), Party of
Algerian Renewal (PRA), Movement of National Understanding (MEN).

Economy

GDP (2010): $159.7 billion.
GDP growth rate (2010 est.): 4.1%.
Per capita GDP (2010 est.): $4,470.
Agriculture: Products--wheat, barley, oats, grapes, olives, citrus, fruits; sheep, cattle.
Industry: Types--petroleum, natural gas, light industries,
mining, electrical, petrochemical, food processing, pharmaceuticals,
cement, seawater desalination.
Sector information as % GDP (2010 est.): Agriculture 8.3%, services 30.2%, industry 61.5%.
Monetary unit: Algerian dinar.
Inflation (2010 est.): 5.7%.
Trade: Exports (2010)--$56.7 billion: petroleum, natural gas, and petroleum products 97.58%. Partners (First six months of 2010 est.)--U.S. 22.67%, Italy 13.78%, Spain 10.80%, France 8.83%, Netherlands 5.67%, Canada 5.07%. Imports (2010)--$40.2 billion: capital goods, food and beverages, consumer goods. Partners (First six months of 2010)--France 16.57%, China 11.83%, Italy 9.06%, Germany 6.47%, Spain 5.88%, U.S. 5.88%.
Budget (2011): Revenues--$41.56 billion, expenditures--$47.69 billion.
Debt (external, January 1, 2010): $ 486 million.
U.S. economic assistance (2010 est.): $2.61 million (Development
Assistance (DA); International Military Education and Training (IMET);
Nonproliferation, Anti-Terrorism, Demining and Related Programs (NADR)).
GEOGRAPHY

Algeria, the second-largest state in Africa, has a Mediterranean
coastline of about 998 kilometers (620 mi.). The Tellian and Saharan
Atlas mountain ranges cross the country from east to west, dividing it
into three zones. Between the northern zone, Tellian Atlas, and the
Mediterranean is a narrow, fertile coastal plain--the Tel (hill)--with a
moderate climate year round and rainfall adequate for agriculture. A
high plateau region, averaging 914 meters (3,000 ft.) above sea level,
with limited rainfall, great rocky plains, and desert, lies between the
two mountain ranges. It is generally barren except for scattered clumps
of trees and intermittent bush and pastureland. The third and largest
zone, south of the Saharan Atlas mountain range, is mostly desert. About
80% of the country is desert, steppes, wasteland, and mountains.
Algeria's weather varies considerably from season to season and from one
geographical location to another. In the north, the summers are usually
hot with little rainfall. Winter rains begin in the north in October.
Frost and snow are rare, except on the highest slopes of the Tellian
Atlas Mountains. Dust and sandstorms occur most frequently between
February and May.

Soil erosion--from overgrazing, other poor farming practices, and
desertification--and the dumping of raw sewage, petroleum refining
wastes, and other industrial effluents are leading to the pollution of
rivers and coastal waters. The Mediterranean Sea, in particular, is
becoming polluted from oil wastes, soil erosion, and fertilizer runoff.
There are inadequate supplies of potable water.

PEOPLE

Ninety-one percent of the Algerian population lives along the
Mediterranean coast on 12% of the country's total land mass. Forty-five
percent of the population is urban, and urbanization continues, despite
government efforts to discourage migration to the cities. About 1.5
million nomads and semi-settled Bedouin still live in the Saharan area.

Nearly all Algerians are Muslim, of Arab, Berber, or mixed Arab-Berber
stock. Official data on the number of non-Muslim residents is not
available; however, practitioners report it to be less than 5,000. Most
of the non-Muslim community is comprised of Methodist, Roman Catholic
and Evangelical faiths; the Jewish community is virtually non-existent.
There are about 1,100 American citizens in the country, the majority of
whom live and work in the oil/gas fields in the south.

Algeria's educational system has grown dramatically since the country
gained its independence. In the last 12 years, attendance has doubled to
more than 5 million students. Education is free and compulsory to age
16. Despite government allocation of substantial educational resources,
population pressures and a serious shortage of teachers have severely
strained the system. Modest numbers of Algerian students study abroad,
primarily in Europe and Canada. In 2000, the government launched a major
review of the country's educational system and in 2004 efforts to
reform the educational system began.

Housing and medicine continue to be pressing problems in Algeria.
Failing infrastructure and the continued influx of people from rural to
urban areas have overtaxed both systems. According to the United Nations
Development Program, Algeria has one of the world's highest per housing
unit occupancy rates, and government officials have publicly stated
that the country has an immediate shortfall of 1.5 million housing
units.